Welcome
At A Healing Stone Therapeutic Massage Center we know every person lives differently and uses their bodies in different ways, so each massage treatment is tailored to fit each individual clients needs.  Our massage therapist and owner Amanda Stone, approaches massage therapy from a medical standpoint, focusing on the anatomy of the client, working to bring balance to the muscle structures.  Using Swedish Massage as a base for the relaxation response, she integrates Myofascial Release, Deep Tissue Work, Active Isolated Stretching, Trigger Point Therapy, and even some Energy Modalities when called for within the treatment plan designed specifically to meet your needs.
To Amanda and all the therapist here at the center, the most important part of our job is developing long term client relationships.  We listen to you first and foremost. Learning about your current or past health issues and knowing what kind of physical activities you are involved in, play an integral part in the treatment plan that will be created for you.  The more we know and understand how you use your body, the better equipped we will be to create a plan that will benefit you.  Through regular appointments, be it weekly, bi-weekly, or monthly; We get to know you, and you get to know us, so that working together we can meet the goals you set and get you on your way to a healthier, happier you.
 A Healing Stone Therapeutic Massage Center / located in Harper Square, Richmond, Ky 40475 / (859)248-6747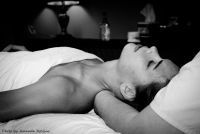 *When scheduling your appointment please be aware we have a 24hr cancellation policy. Because this time is set aside and reserved for you, if for any reason you need to cancel or change your appointment you must do so 24hrs in advance in order to NOT be charged for the session.